Remember kids, these two humans are the product of wasting your life. Do something during the summer and you won't end up like these two.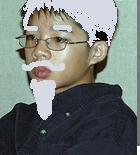 He is suffering from Lack of Activity.
As you can see, old age is already starting to kick in for this lazy guy. He's grown a beard and mustache at the age of 13 due to lack of activity. His body got so bored it actually accelerated hair growth and cell splitting just so it wouldn't die of boredom and lack of activity.
She is suffering from Lack of Work.
The human body is meant for work. If you do not work, this is the result. Here you can see that her hair has gone completely white. Even her eyebrows are white. Luckily hair loss has not occured yet but it may soon if she doesn't do something worthwhile. This is the result of having too much free time and doing nothing with it.
So as you can see, you do not want to be a part of this life. Whereas these people have absolutely nothing that they are doing with their summer, do something with yours. Take a summer class. Join a school sport team. Go out running some laps. Swim back and forth your pool. Verb, it's what you do.
Pictures are a product of the Results of Lazy Americans Co.
(Yes, I got the base pictures from Senior Banquet.)
The Results of Lazy Americans Co. is not a real company. Please do not try to sue us, contact us, or believe that we are real.